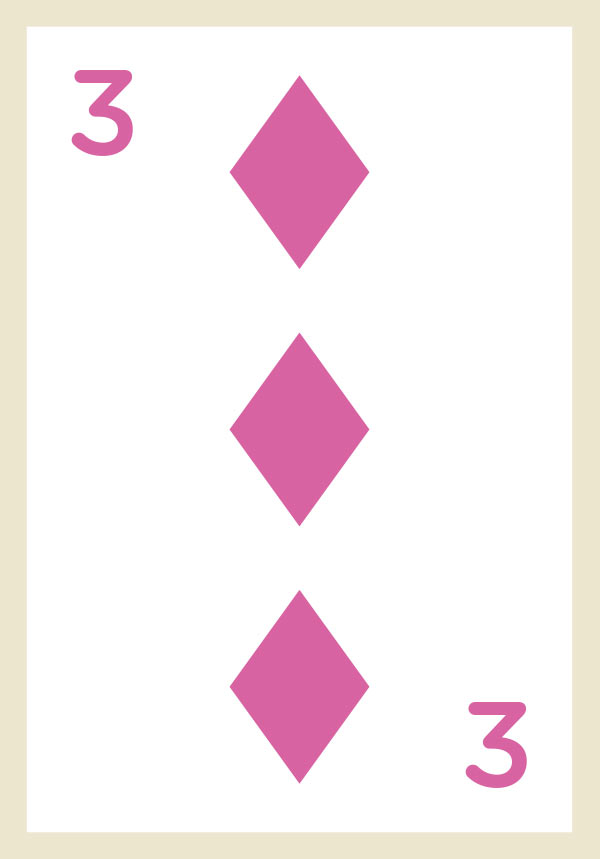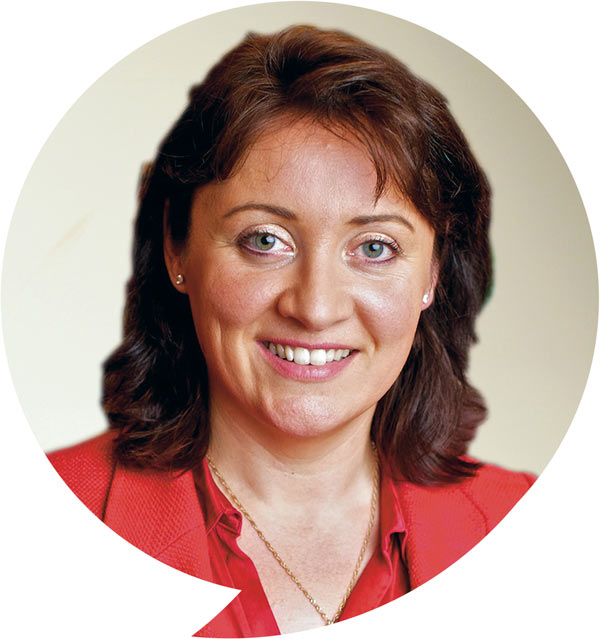 A balanced education in a busy, growing school
Katherine Jeffrey (New Hall School) sees strong continuities in the Catholic ethos of her rapidly expanding diamond school and its commitment to equality and diversity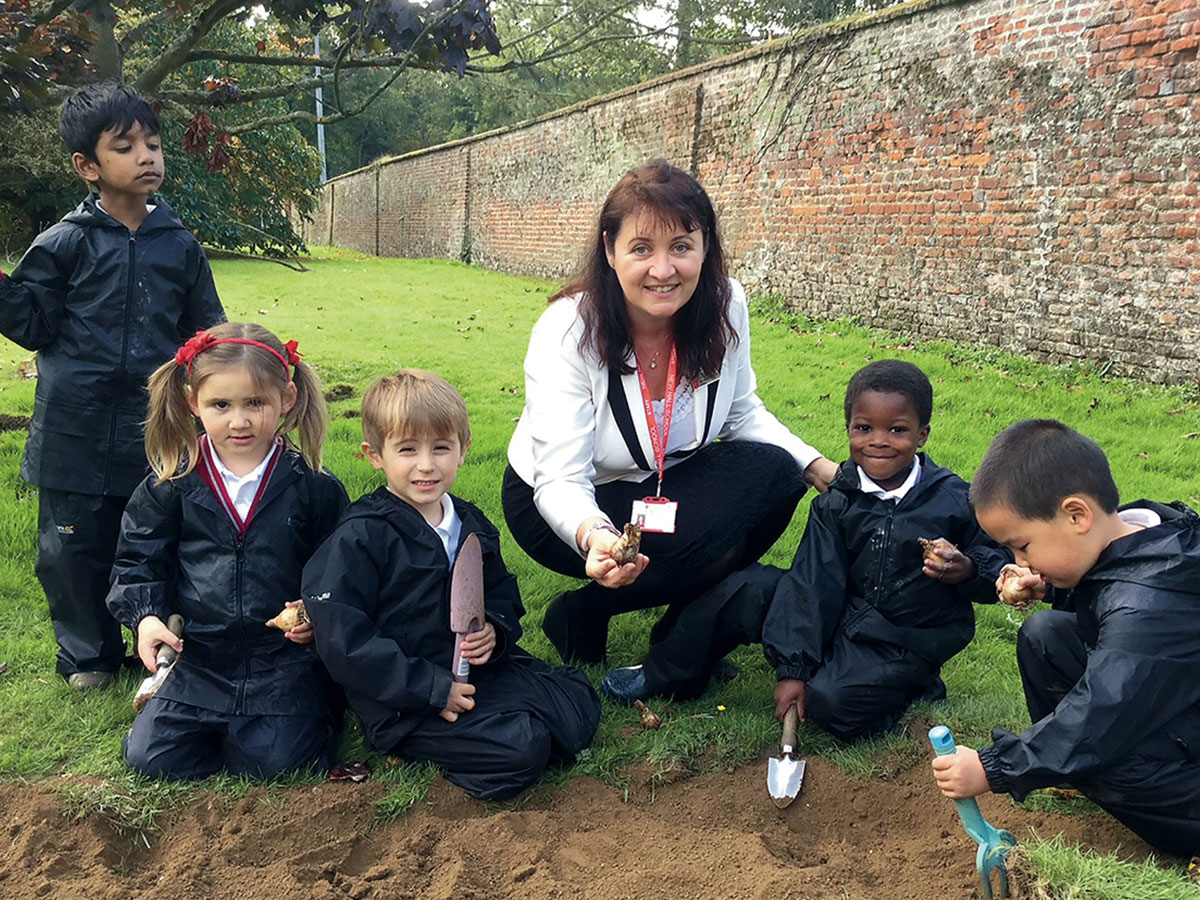 As part of the schools 375th anniversary celebrations, pupils from the Preparatory Divisions planted 375 daffodil bulbs with help from the Head.
The rate of expansion at New Hall has been remarkable over the past 12 years since it adopted the diamond model of school organisation. The school has grown from a small former convent school of around 500 students to a thriving all-through Catholic school for girls and boys aged 3-18, of 1,250 students, rising to 1,500 by 2020.
Strategic vision and successes in this period have won the school numerous accolades, including TES Independent School of the Year 2016-17, but of special note is that student and parent surveys consistently show an overwhelming majority choosing New Hall specifically because of its diamond structure.
Many girls' schools focus on the academic arguments in favour of single-sex education of girls, and the success of this approach at New Hall derives, as it does elsewhere, from our ability to tailor pastoral provision sensitively and appropriately to the needs of young people going through the physical, emotional, hormonal and social upheaval of adolescence.
Yet the diamond model has also enabled New Hall to buck the national trend that sees boys underperforming academically
relative to girls. Ten years on as a diamond
school, New Hall results show remarkable consistency, with girls and boys performing at the same level at GCSE and A level. In 2017, 234 public examination modules were awarded 100% in a context where standards have risen year-on-year since taking senior boys.
At the heart of the model lies an absolute commitment to equality and diversity, values which are very much in harmony with New Hall's Catholic ethos. The distinctive diamond structure helps to combat stereotyping, and students are supported through the adolescent years by being in classes and tutor groups where their peers are experiencing similar changes and issues.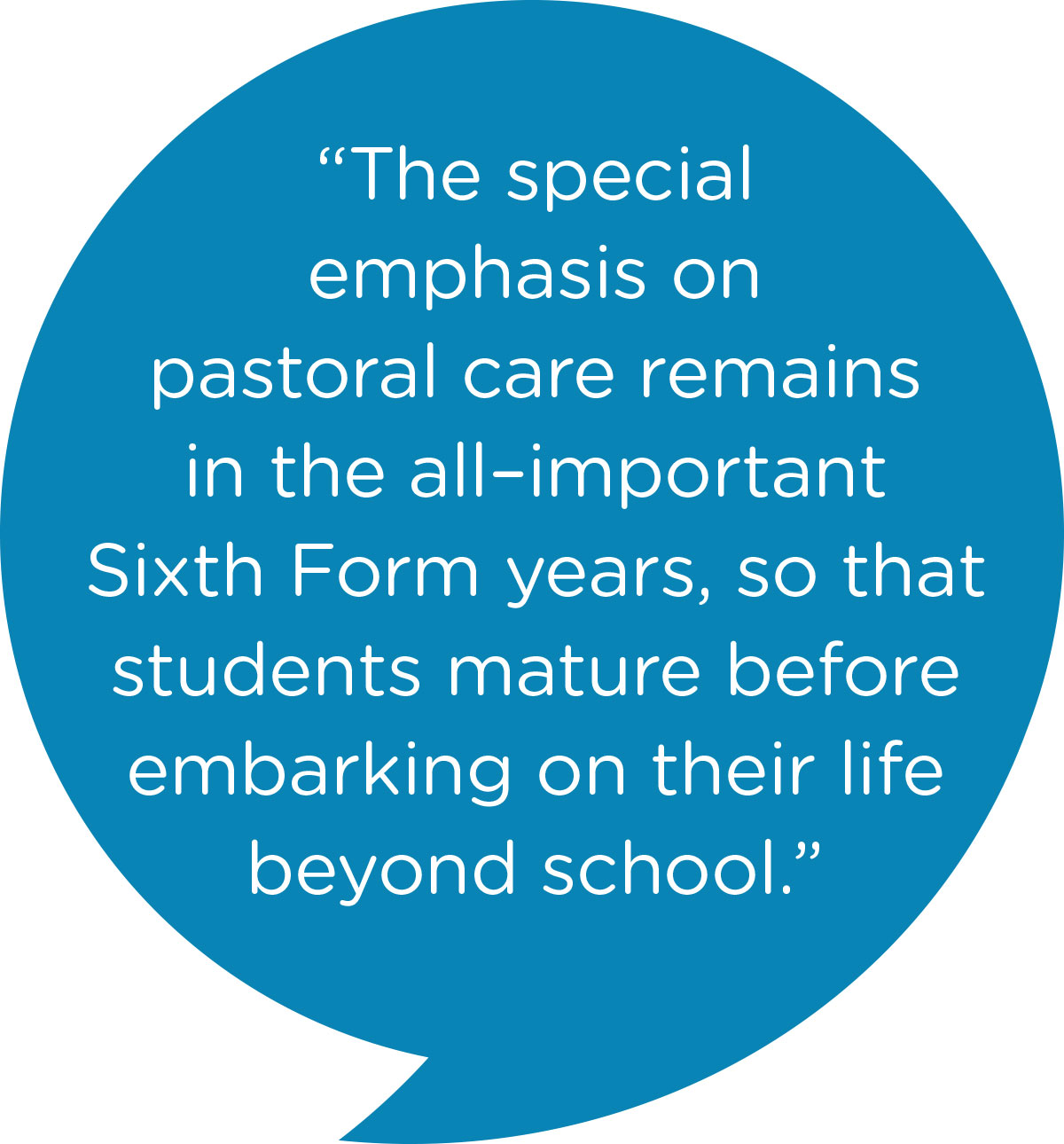 Where girls and boys are taught separately, positive peer influence can replace negative peer pressure. When girls go to lessons in physics or mathematics, or boys in English or art, the subjects are experienced as gender-neutral, because classes are single-sex. As the same curriculum is offered to both the Girls' and Boys' Divisions, no gender stereotypes are communicated to students, helping them to make individual choices about the subjects they wish to study.
New Hall sees no particular challenges presented by the diamond structure in relation to transgender issues: the school's uniform is already flexible, allowing choice between a skirt/ trouser uniform; some unisex toilets are being provided in new buildings; and the school is open to allowing students identifying as a different gender from their biological sex to be educated in the Division of their choice from 11 to 16.
At New Hall, girls have the opportunity to play sports such as rugby, cricket and golf to a high level; moreover, many boys enjoy dance, which is a major co-curricular activity at the school. In other areas, too, girls have become more willing to embrace competition, without this changing the overall community and collaborative ethos of the school.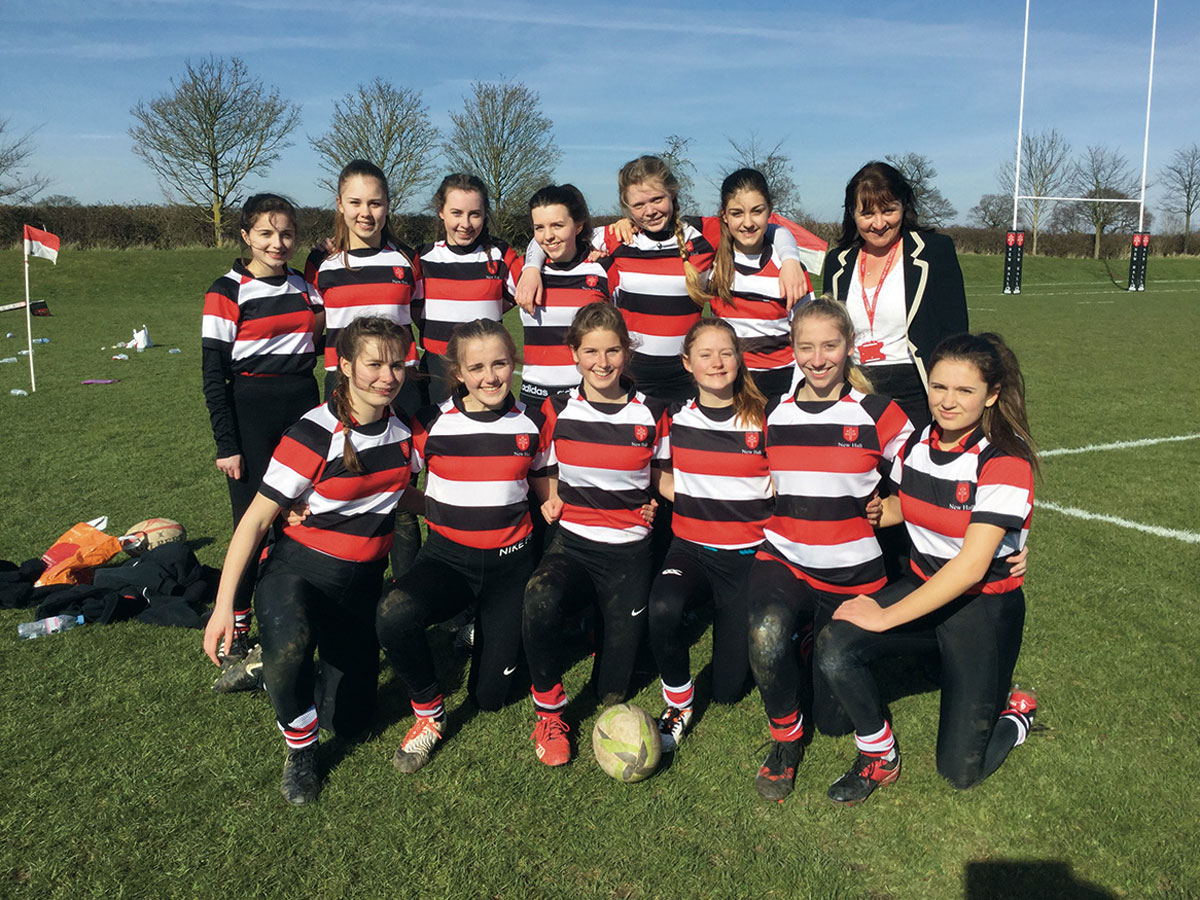 New Hall School hosts the inaugural Essex Girls' Rugby Sevens Tournament. The school introduced girls' rugby in 2017.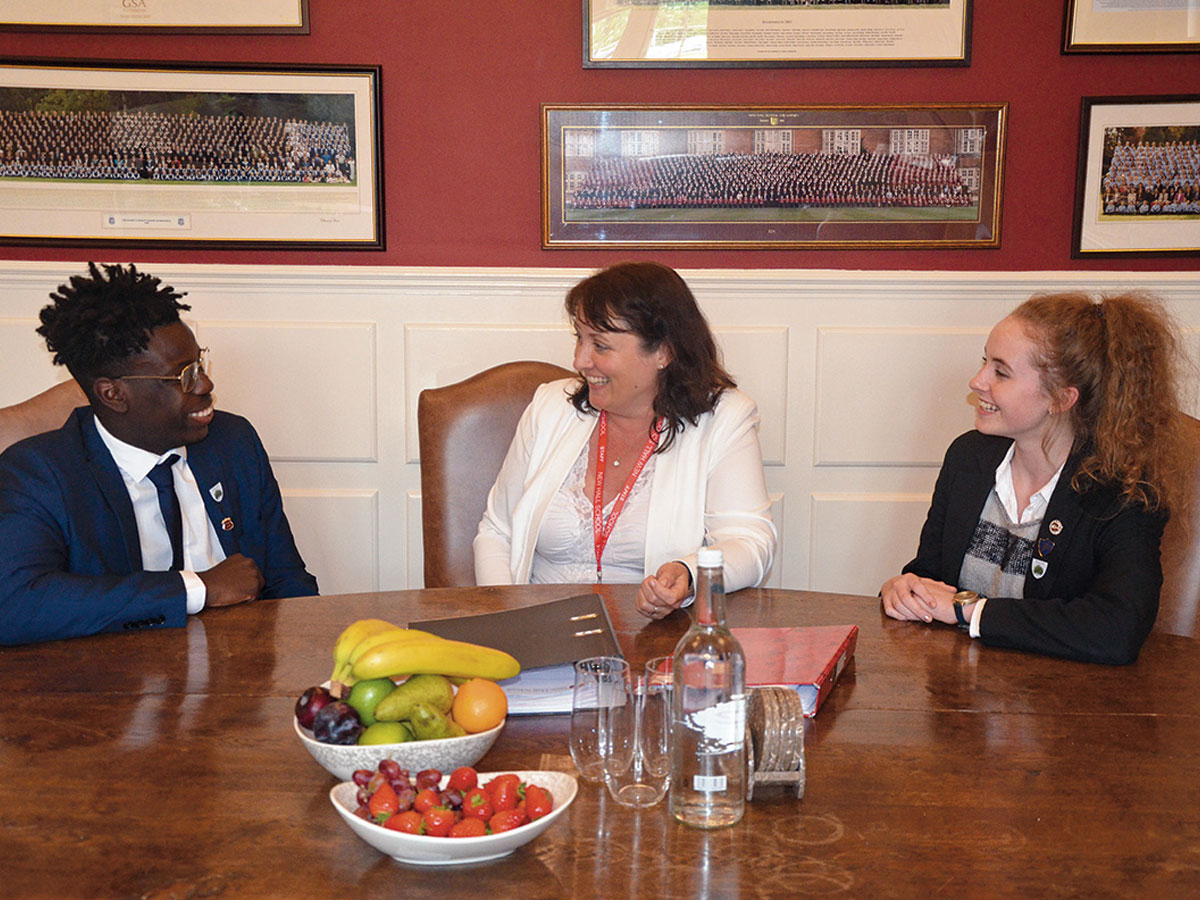 Katherine meets on a regular basis with the Head Boy and Head Girl to discuss key topics on the agenda of the pupil body.
To prepare for adult life, students must learn how to work with and to relate to others, irrespective of gender. Up until the end of GCSEs, the benefits of single-sex classes are coupled with the social advantages of co-education. Around the campus, at lunch and in co-curricular activities, girls and boys mix and make friends; orchestra, choirs and school plays, for example, are all mixed activities. This provides a balanced, all-round education, as well as the practical benefit that sons and daughters can be educated with a single school-run and with the same school holidays.
With the introduction of boys to a formerly all-girls school, there have been changes but all the major ones have been positive for us. The enormous energy and emphasis on team games, which came with the arrival of the boys, has transformed the sporting life of the school. Girls quickly became jealous of the comradeship, team spirit, and regional and national success of the boys in rugby, cricket and tennis. The result has been the meteoric rise of girls' sports teams, with regional and national successes in hockey, swimming, athletics, ski racing and riding.
While gender issues still need to be considered at Sixth Form level, most students in this older age group benefit from a fully co-educational curriculum, allowing them to use the mixed environment to help transition to adulthood and be fully prepared for university life or apprenticeships and subsequent careers. The special emphasis on pastoral care remains during the all-important Sixth Form years, so that students mature educationally, emotionally and socially before embarking on the independence of their life beyond school.
The diamond model also enables a large and well-resourced school to tailor its education in smaller, pastoral Divisions.
In the move to becoming diamond, nothing has been sacrificed at New Hall. It was founded in the 17th century on a mission to educate girls and to enable them to have the same educational opportunities as boys, and New Hall remains the only HMC co-educational school that has always had a female Principal – a tradition now stretching back 375 years!