A British curriculum experience in the Gulf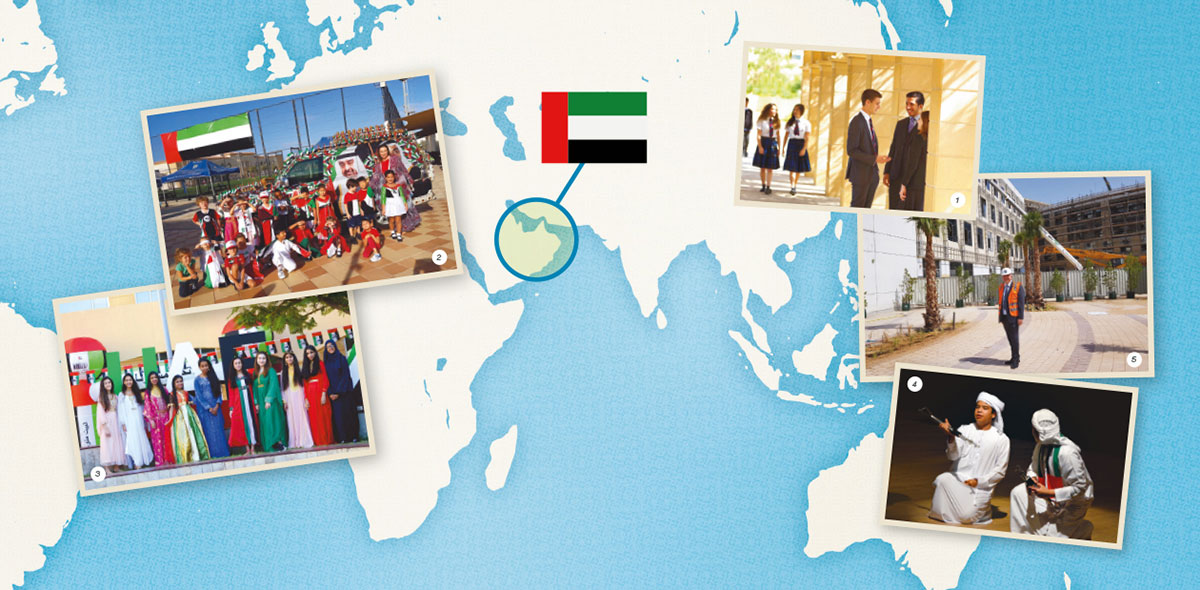 1: Pupils in conversation at Brighton College Abu Dhabi
2,3 and 4: Pupils at Brighton College Abu Dhabi celebrating and marking the UAE National Day in 2017.
5: Marco Longmore at the Brighton College Dubai campus during construction.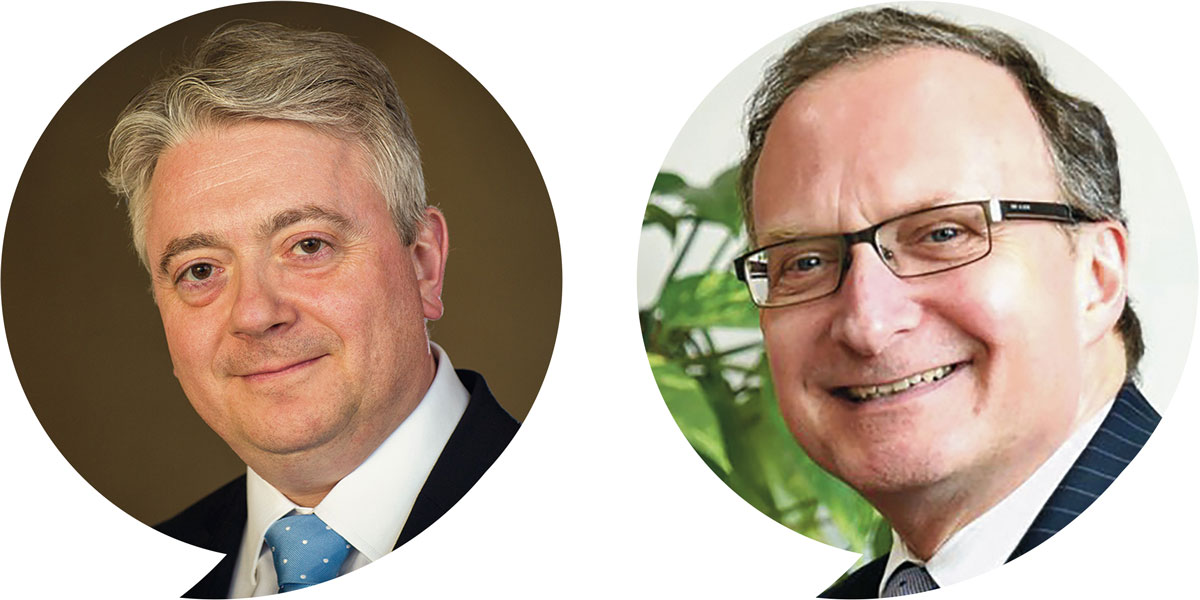 Marco Longmore (Brighton College Dubai) and Simon Corns (Brighton College Abu Dhabi) describe the exertions and rewards of setting up and running top quality British schooling in the United Arab Emirates
ML: "Hello Marco, thank you for taking my call. We have an opportunity that we thought you may be able to help us with." So starts the recruitment agent conversation that all HMC Heads have had at some point.
The pivotal moment in the conversation is whether you can engage with the opportunity at hand beyond the immediacy of your next diary appointment, parent meeting, alumni/ development speech drafting or the myriad of other concerns that fill, not just the day, but most of the evening for HMC Heads.
So it was 20 months ago that this journey started for me. From the "comfort" of a nine-year Headship in an expanding, academically and financially successful HMC school in Edinburgh, I now fill my days in a temporary Admission Suite in a new office complex in Dubai, building a school team of staff and pupils to open Brighton College Dubai in September 2018.
This involves several firsts for me – first time in a start-up, first time overseas, first time in the Middle East (barring transit lounges). Yet having worked across Scotland and England in four prestigious HMC schools, there is a range of experience that I have certainly drawn upon in my new role.
SC: I have had the privilege since January 2017 of leading what was already a successful and well-established school, loyal to the Brighton College brand but conscious of its role in the UAE and keen to embrace local customs and culture.
There are challenges, of course, in maintaining the Britishness of schools in the UAE, especially when there is the requirement for Arabic, Islamic and Social Studies lessons to occupy a sizeable proportion of the timetable. Local regulators, while benevolent in terms of their respect for what the school has brought to the local and ex-pat community, are rightly keen to ensure that everyone is familiar with local culture and sympathetic to its values.
While there are inevitably tensions, I believe strongly that this school has steered a sensible, pragmatic and effective line and that no visitor could leave thinking the school is anything but a British curriculum school operating in the UAE. It has an HMC feel to it; most staff come from the UK and are UK trained.
ML: Ten months in post, a school yet to open, a new staff body appointed who I hardly know and a pupil body still to grow, this is a far cry from previous challenges. I have never been so tired (well, not since the children were infants!), nor have I ever been so invigorated and challenged.
Sir Walter Scott gave the opening address in my previous school back in the 1820s. I often quote one of his poems where he describes "A will to do and a soul to dare." I believe you need both to take on some of the particular challenges of transitioning to overseas education and school leadership. But my goodness, should we not be educating our own pupils to be ready for that? If good enough for them, why not for you?
ML: Bringing to a new and very dynamic city the authentic representation of a truly top-quality British independent school brand is not for the faint-hearted. Keys to success in making this transition are the following.
Believe in the brand of British education you are representing. Without a natural affinity for the educational experiences that you are giving your all to promote, it will be all but impossible to sell this in a new and dynamic market.
Understand the level and depth of involvement of the UK-based partner. The commitment that Brighton College has towards its overseas schools is genuine and deep. It stretches across governance and school leadership with quality assurance, to curriculum endorsement and support.
A strong and stable local partner is a key ingredient. Finding a partner that has a track record of good relationships and that understands your educational philosophy and brand values helps keep an appropriate focus on what is important as the school develops and invests. Thankfully for me, Brighton College's 10-year relationship in the UAE with Bloom Education – across the two existing and soon to be third Brighton Colleges here – has built that basis of understanding and mutual trust.
Be open to difference. We often talk about diversity and difference in our schools but unless you have lived it first-hand in terms of different systems of working, HR, regulation and licensing, it is hard truly to know how far your internal rubber band can stretch when doing things differently to UK norms.
SC: Our pupils of all nationalities (well over 60) enjoy the benefit of being taught in English, but compulsory Arabic for all gives a wonderful opportunity to take away from the College a skill and insight into Arabic culture that will make pupils extremely employable in the future.
I, too, have been taking Arabic lessons (though not for future employment – I'm far too old for that) and enjoy using the language with parents and other visitors. I'm hoping, in that fond and whimsical way we Heads do, that in taking a lead of this kind I am doing something to reinforce the importance of Arabic among the "Why do we have to do this?" contingent.
Meanwhile, our commitment to A levels and GCSEs for all ensures that what we do is rooted in British culture. Those who choose the school expecting they will enjoy the full benefits of a British curriculum thus do so, without losing sight of where they are or why Arabic customs need to be understood and respected by all who are guests in the UAE. Three years of excellence in terms of A level results and university entrance has confirmed our reputation as a high-performing school.
SC: Our UK colleagues keep in close contact through the medium of Brighton College International Schools and visit regularly. We see this as an entirely positive relationship: recently we have developed with them a programme of review of senior leaders, and there are many contacts, formal and informal, between staff here and those at Brighton College UK (and, of course, with our sister schools in Al Ain, Dubai and Bangkok). We have also met them in the context of sport, and there is to be a Year 9 exchange this year.
All of this means that there is productive cross-fertilisation that keeps the Britishness of our College refreshed and enables us to maintain contact with educational developments in the UK.
As to the future, there will, I think, continue to be tensions as society here adjusts to its own way of doing things (not unreasonable), and it is possible there will be an apparent erosion of Britishness (though that concept itself is becoming harder and harder to define). In essence, however, the notion of a British curriculum school in Abu Dhabi that is open-minded and able to see the advantages of embracing local culture will continue to have much to commend it.