Perspectives on the past
and forecasts for the future
Three HMC Membership Secretaries reflect upon the rewards and challenges of the role.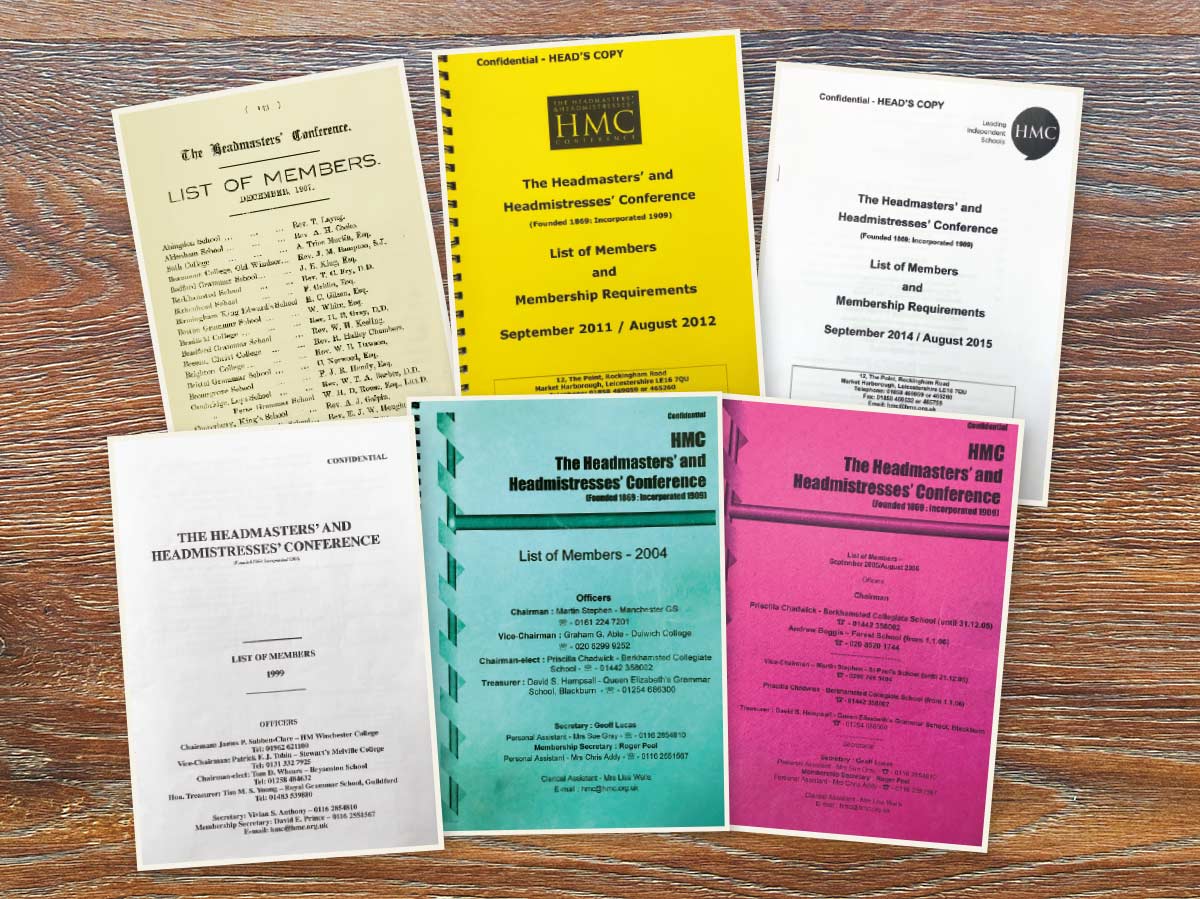 The evolution of the HMC List of Members documents over the last 150 years.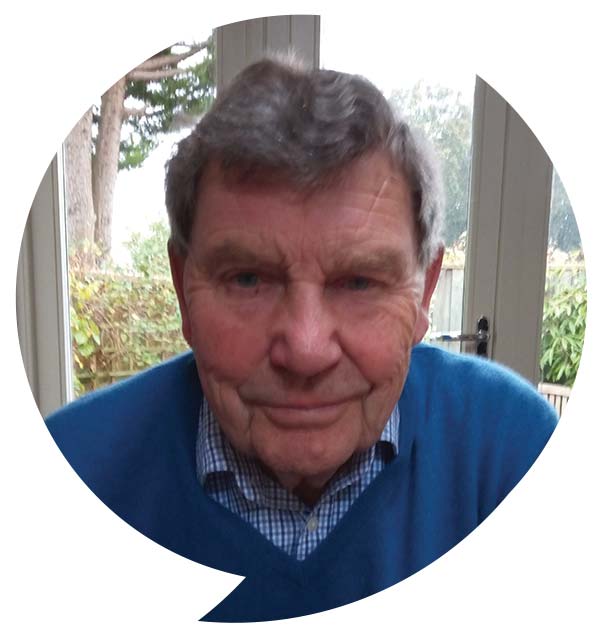 David Prince:
Membership Secretary 1996-2002
At my interview for the Membership Secretary's post in 1996 I argued the primary importance of it bringing individual support to individual heads in their individual circumstances. Having led a small school for 13 years, I felt HMC needed to understand that each school had its unique challenges, the weight of which fell on an often surprisingly isolated head. Heads needed to feel an awareness and understanding in headquarters of their circumstances and challenges.
The pressures then were probably no different from now - keeping the school full, achieving satisfactory academic results and finding the right staff. But... league tables had just appeared as had inspections, bringing with them an increasingly prescriptive regulatory regime. Faced with this, schools needed more advice and information. This in time led to a change in the route to headship from the pastoral to the managerial. There was an increasing temptation to become a manager rather than a leader of a community.
To meet these challenges HMC had to become more professional in the services it offered. Heads needed practical information, guidance and back-up to ensure they were in line with regulatory need and practice. In providing this support HMC had to strike the right balance between the provision of relevant and appropriate advice and the avoidance of diktats from the centre. The independence of schools had to be respected.
If anything, I feel that independent schools have a brighter future now. Despite press hostility and spasmodic political posturing, our schools remain in strong demand because we have continued to provide first class service across a wide spectrum of educational needs - academic, pastoral, athletic, cultural and social. As long as we maintain our standards in pursuing a broad-based educational provision we will remain relevant and popular in the face of the challenges ahead.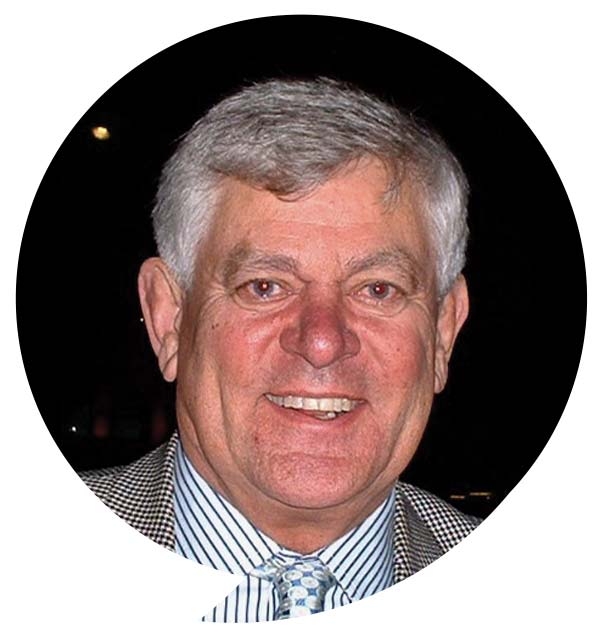 Roger Peel:
Membership Secretary 2002-2009
Appointed as Membership Secretary, I was very fortunate to work alongside Geoff Lucas, whose prodigious knowledge and grasp of educational matters were inspirational. My portfolio of responsibilities included serving the Membership Sub-Committee, Inspection Steering Group, Conference and Common Room Steering Group, Sports Sub-Committee and Junior Schools Sub-Committee. I was responsible for working with the Chairman, organising the annual conference and leading accreditation inspections. Regular visits to divisional meetings gave an insight into different regional challenges that members were facing. Geoff and I were determined that those further from London did not feel neglected in any way.
None of these responsibilities were more important than membership matters. I was available to members with queries or problems 24 hours a day. Sadly, there were occasions when members were in serious trouble and I encountered a number of tricky cases.

At my first HMC Committee meeting in September 2002, I witnessed an extraordinary example of leadership. Geoff Lucas had analysed members' concerns over the A Level results and realised there was a serious underlying problem. Edward Gould, the Chairman, suspended the agenda and announced that he had called a press conference –would anyone turn up? Members of the East India Club looked on in amazement as the building was invaded by news camera teams. The rest is history and it led to the resignation of the Minister of State for Education.
I was instrumental in persuading HMC Committee in 2006 that it was time to open our doors to girls' schools. This was potentially controversial but Priscilla Chadwick, HMC Chair, handled sensitivities with skill and I was able to take accreditation teams into the first group of girls' schools admitted to HMC.

HMC was developing in other ways during my time. Inspection was never far from members' thoughts. Professional development services were expanding, a Communications Sub-Committee was formed and a European International Division was established.

Despite the weighty matters on its agenda, HMC continued to grow as a supportive organisation, demonstrating a sense of fun whilst building camaraderie and many life-long friendships.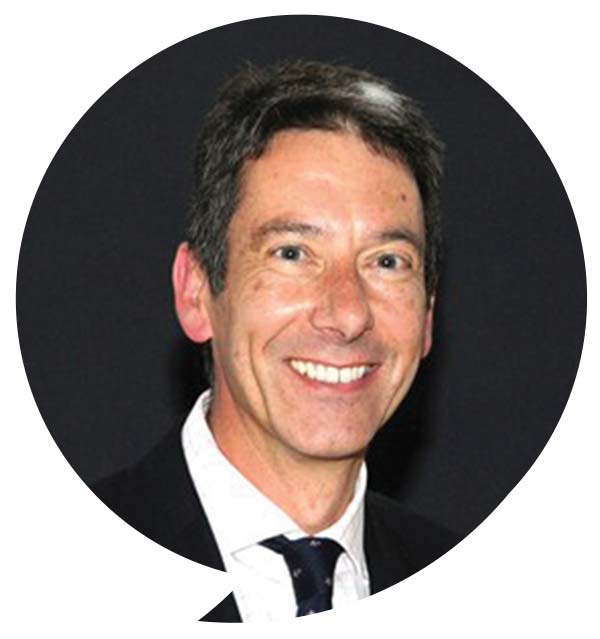 Ian Power:
Membership Secretary 2009-Present
I once described my job as an 'agony aunt for heads' and in many ways this remains the most important part of the role. It is often said that it is lonely being a head (although as most heads know you are rarely alone and such occasions are to be cherished!) and having someone to confide in who understands what it means to be a head and to help problem solve are vitally important. What naturally follows from this is the capacity to connect heads with heads, drawing on that tremendous HMC collegiality and unfailing willingness to share ideas and offer valuable support and expertise. As the years have gone by, I realise that I might not know a lot myself, but I do know an awful lot of heads who can answer almost every conceivable question (and a few inconceivable ones as well!).
The last ten years have seen an ever-increasing hostility towards the independent sector coupled with escalating financial pressures on schools. Affordability and privilege are probably the new buzz words: affordability when middle class professionals have been priced out of the market, and privilege as a proxy for the enviable success of the pupils in our schools and their capacity to influence on a global stage. A string of public school educated prime ministers has had the perverse effect of portraying independent schools as the cause of the various inequalities in society rather than evidence of the quality of their education.

Added to this is a growing sense of 'football manager syndrome' with some governing bodies judging success simply in terms of academic results and pupil numbers and looking to replace heads rather than consider what success really means in the context of their local market.
The biggest change has been in the number of full UK and Irish members, rising from around 250 to just under 300, and with it a far better gender balance within the association. HMC has also taken a wider view on internationalism with the rapid growth of international partner schools, especially in the Middle East, China and other parts of South East Asia.

Parents will always have the right to choose, and this gives cause for great optimism. The challenges never get any easier but time and time again our schools have shown themselves able to adapt and diversify quickly and successfully. Looking to the future, whether it is merger or federation, diversification overseas, moving into new markets, or shifting the centre of operations offshore, our schools will continue to exert their independence and meet the needs of children and their parents. History tells us that you would be a fool to bet against them!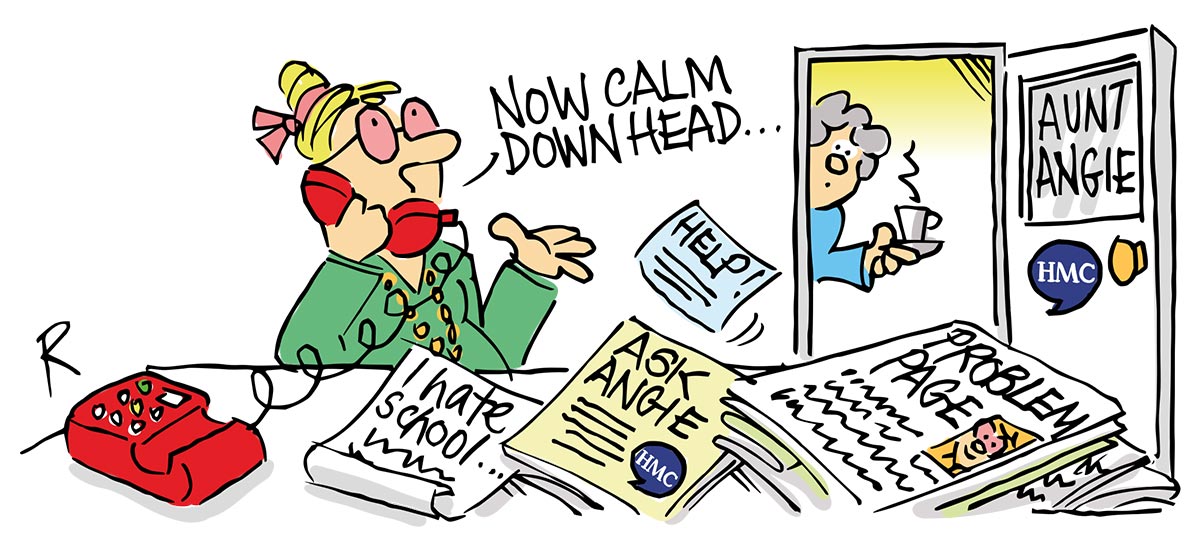 An 'agony aunt for heads' – all in a day's work for an HMC Membership Secretary.