Another way: future leaders of tomorrow choosing an alternative to university today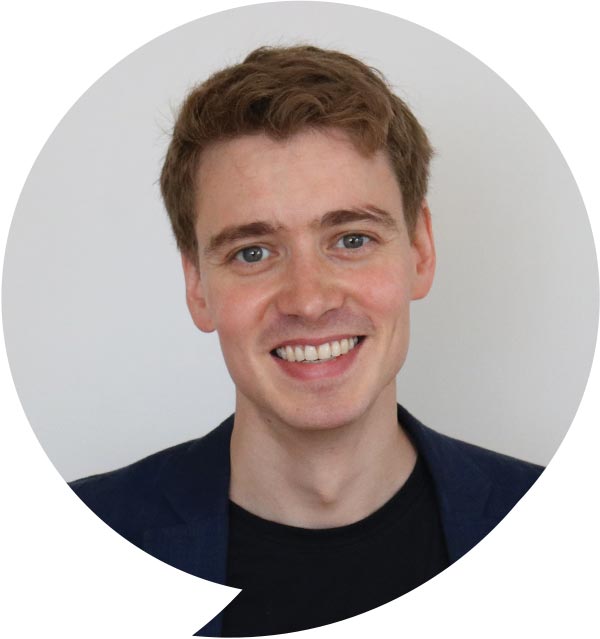 It's time schools and careers advisors started shouting about the professional apprenticeships out there for students looking to get ahead, suggests Euan Blair (Co-Founder and CEO of WhiteHat)
Professional apprenticeships are currently a well-kept secret amongst a group of school leavers who are gaining a qualification, avoiding university debt and building a professional network, before their peers may even start to think about entering the workplace.
The appeal of alternatives
"When I told my friends I was going to do an apprenticeship rather than go to university, they were all initially shocked," shares Georgia White, a Business Administration apprentice in the HR department of Improbable, the tech company changing the landscape of gaming. "At school, we were not made aware that apprenticeships existed for non-manual jobs. For all we knew, apprenticeships were only for the likes of plumbers and other traditional trades. My friends and I did not know you could do business and creative office-based apprenticeships like the one I am undertaking now."
Despite last year's introduction of the Baker Amendment, mandating all schools to discuss apprenticeships alongside university as part of Further Education guidance during the final years of secondary school, Georgia's story is common. The combination of the thorny legacy of vocational training as a synonym for blue collar trades, a lack of clarity around application processes and timelines, and an emphasis on university destinations, means that apprenticeships are rarely presented as the compelling route to a professional career that they can be.
Yet whilst the education sector may still be waking up to the range and potential of schemes that empower young people to learn on the job, British businesses are acting now. The government's introduction of the Apprenticeship Levy in 2017, which dictates that any company spending over £3 million on their annual payroll must set aside 0.5% to spend on training apprentices, has sparked a wave of new opportunities. The law focused the attention of a range of employers onto a fact that some have long known - that apprenticeship schemes are a great way to mould entry level talent into highly skilled, motivated and loyal employees, who will look to grow with their sponsor company.
Increasingly businesses both big and small are turning to apprenticeships as a method of diversifying their entry level talent pipeline. Businesses aren't just taking on apprentices to tick a box; they're creating genuine and credible alternatives to the traditional degree and graduate scheme route. After a period of introduction, established and successful apprenticeship schemes are now in operation across the capital and beyond, and companies are continuing to increase their intakes year
on year. Bright, ambitious and talented school leavers are taking on digital marketing and tech roles in companies like Facebook and Warner Bros.; accounting qualifications in both specialist firms like Buzzacott, and corporations such as the international law firm Mishcon de Reya; and business roles in every shape and size of organisation, from giants like BP through to exciting London startups such as Treatwell and Tandem Money.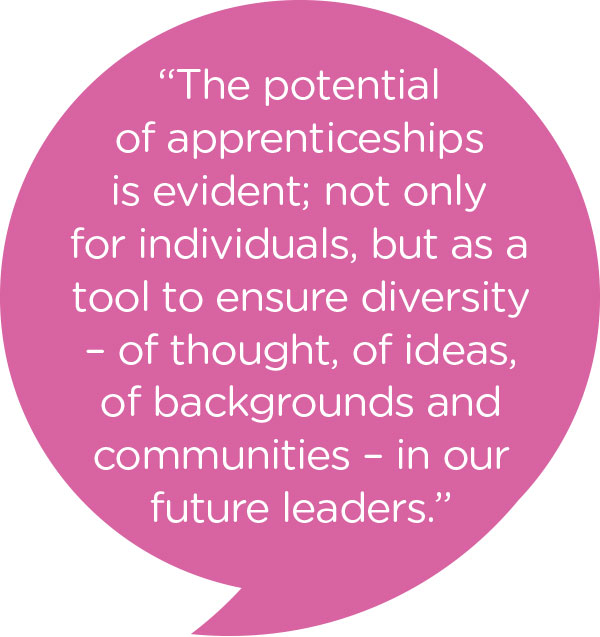 "Most of my friends didn't really understand at first, but because I have updated them throughout my apprenticeship they now have a better understanding and their opinions on it are really positive – with some even wishing that they went for that route in the first place. All of my friends are at university, and so the response that I usually get is jealousy that I am getting paid while they're getting into debt," adds Georgia.
Access and advantage
Although getting an academic degree will remain a route many pursue, it's vital that those who are better suited to applied learning, or those who have a clear sense of their professional aspirations and just want to get started without amassing student loan debts, have a quality option with clear career progression available to them. To make this happen, we're changing apprenticeships in three key ways: firstly, we're using smart matching to ensure that young people are placed into roles that suit their values, capabilities and personality. Secondly, we're bringing strong content into apprenticeship training through our partnerships with expert organisations such as Mind Gym, General Assembly and Flatiron School. And finally, we're establishing a social experience for apprentices to rival the network that their peers build at university, through an on and offline community.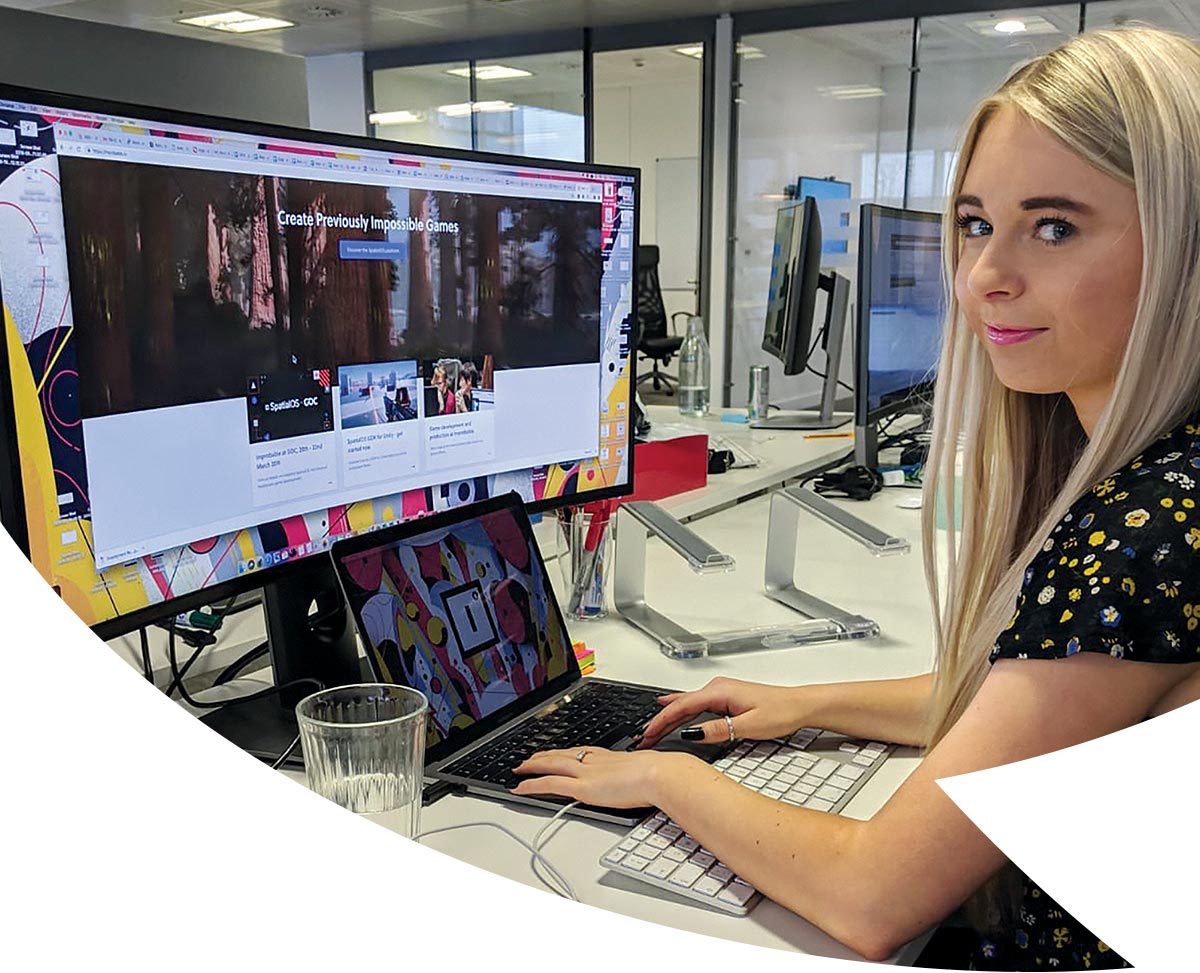 Georgia White, Business Administration apprentice in the HR department, at the Improbable office in London.

Georgia's parents recognised from A Level results day that a different route would be the best option for her. "It is true that our three older boys all went to university, but with differing outcomes. The one who dropped out of his course is currently the most successful, earning well over £100k and owning his own house. The other brothers both required a degree to get into their chosen professions and the youngest one also needed to get a Masters. Everyone is different, even within a close-knit family, and there is no right or wrong answer, but to succeed in a profession it is important to be involved in something you enjoy and have an aptitude for. Likewise, I think it is folly for a child to take a university course as a box-ticking exercise or to keep their parents happy," argues her father, Jon.
"Friends and family have noticed the change in Georgia, since she started her apprenticeship. She is more confident and mature in attitude and a lot of this improvement is her placement in a progressive company, which has entrusted her with immediate responsibility. She really is benefitting from a rounded apprenticeship."
The opportunities are there and the potential of the apprenticeship route is evident; not only for individuals, but as a tool to ensure diversity - of thought, of ideas, of backgrounds and communities - in our future leaders. However, it's true that to date there has been a lack of information and guidance for schools to turn to when advising students considering an alternative pathway. To provide this we've developed careerhacker.ai : a resource for all young people to help them make informed decisions about their future. It is regularly updated with fresh guidance, interactive quizzes, inspirational stories and live apprenticeship roles.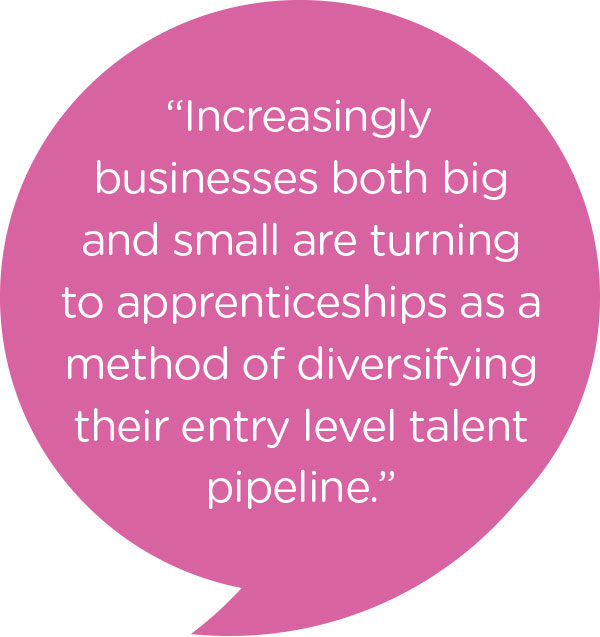 As for Georgia, she hopes to open young people's eyes to the fact that they have a choice when it comes to pursuing further education. "One thing I would say to a young person deciding what to do after school, would be to know all your options. University isn't the only one, there are alternative routes you can take to achieve the career you want."