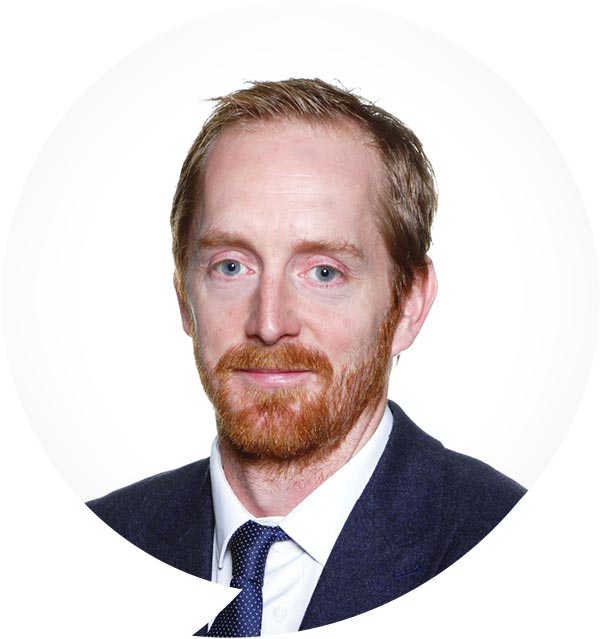 Hamish Mackenzie (Head of Digital Strategy and Learning, The Royal Hospital School) highlights thevalue of gaming and the balance to be struck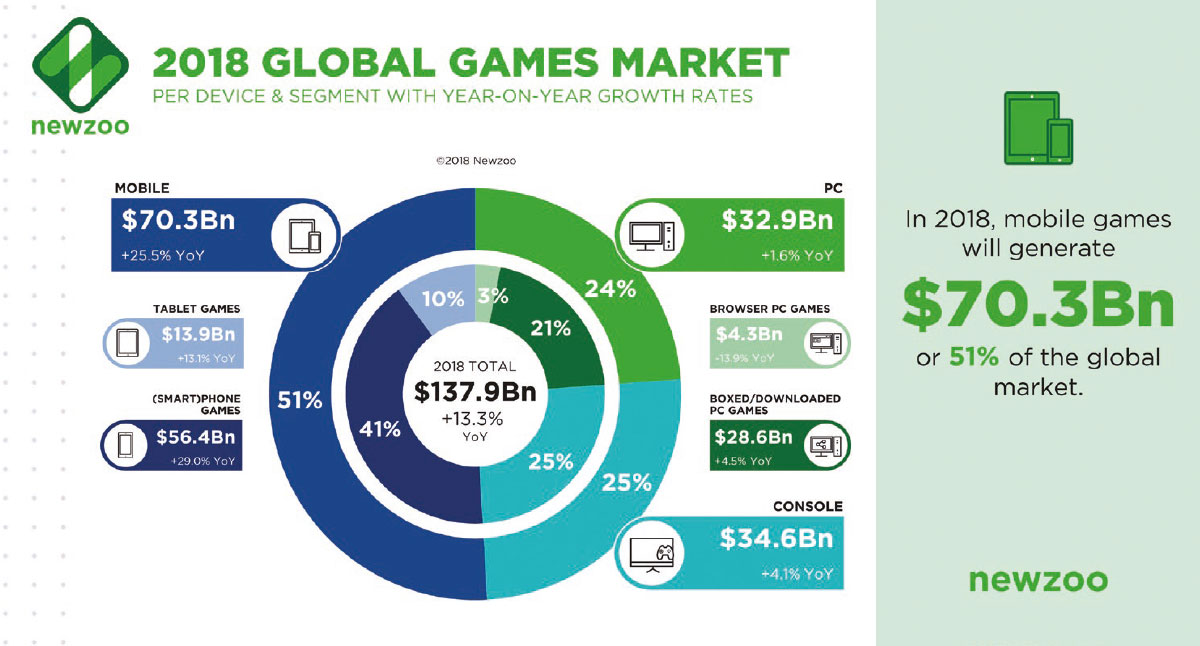 Source: ©Newzoo | April 2018 Quarterly Update | Global Games Market Report
The issue
The global games industry is worth more than £137 billion and provides one of the UK's most successful creative exports. It is estimated that there are in excess of 2.3 billion gamers worldwide.
Much of the success of this industry is down to device proliferation in the youth market coupled with the drive towards mobile devices as the preferred platform. A recent Ofcom report on use and attitudes showed that children are plugging in to connected apps and platforms at an ever-younger age and for longer periods of time.
The youth gaming market is ferociously competitive. Major game launches now command budgets, marketing campaigns and press interest similar to A-list Hollywood films. The extraordinary popularity of new game titles is shown by the global audience and instant engagement they command - Apex Legends had over 2.5 million unique users and over 600,000 concurrent users on the first day after release. Increasingly, the most profitable titles are free to use seeking to leverage revenue once players are engaged.
Many parents and teachers are extremely wary of the addictive nature of the platforms and the behaviours that they can drive. The games use sophisticated techniques; they exploit needs within the human psyche. Increasingly subtle methods are used to command and maximise player attention. Games are designed to be fun - the designers' skill lies in shaping an engaging, challenging and worthwhile experience that will keep users hooked. Educators and parents may feel powerless faced with the lure of these games.
However, the attention-grabbing mechanisms of these games does not necessarily indicate that game studios are motivated by a desire to monopolise the market or enslave youth.
In his book The New Childhood Jordan Shapiro espouses the potential educational and social value of games. He suggests that video games share many characteristics with great teachers. Players have to follow a systematic approach in order to progress, in much the same way that pupils acquire a new language. Games are rigorous (players are kept in the zone of proximal development), responsive (instant feedback is available on why strategies fail), reflective (meta-cognition opportunities are continually available as players can separate themselves and their thinking from the actions of a player within a game) and real (games are kinesthetic and experiential in their nature). Players learn by doing, exploring and engaging in trial and error. Games are by their nature personalised and differentiated.
Whilst the debate over the potential impact of screen time and game play is heated and polarized, the evidence remains far from conclusive.
The research
In February, 2019 the Chief Medical Officers of GB and Ireland published guidelines on screen time and its impact on young people. Their advice reflects common-sense values and recognises the importance of boundaries; adults leading by example and the need to engage in open and honest discussion.
Success is most likely when young people learn to self-regulate their consumption. Whilst it is tempting to retreat towards the on/off mentality, it is a false binary.
Children can grow or be diminished in both spaces. Many of the development benefits we want children to learn can be taught in games. Rituals, boundaries, problem solving, decision-making are all apparent - strengthening important neural pathways around skills that are needed in the real world.
Using gaming positively within schools
Schools strive to deliver a personalised, creative and differentiated learning experience where progress can be measured and feedback is offered. Games can be a key tool in a teacher's arsenal.
As a tool for assessing learning, games are a powerful means of engaging student understanding. Google has developed a free platform game Be Internet Legends which rewards responsible behaviour, conditioning players in such areas as data protection, being respectful, thinking before posting, being kind online, blocking and reporting cyberbullies. This can be a far more effective tool forteaching digital citizenship and online safety than the traditional assembly or lesson.
In 2014, Microsoft acquired Minecraft for $2.5 billion and has subsequently offered it free to schools. Players immerse themselves in real-time collaborative adventures where cooperation, teamwork and problem solving are rewarded. Meanwhile, Apple has developed its own gamified environment providing the opportunity to progress from simple coding of basic functions and algorithms, to advanced coding and app development. The resources and platform enable participants to solve problems and learn a programming language that carries value in the 21st century jobs market.
Adolescent mental health is a concern to all involved in education. The tide of teenage self-harm appears to be of epidemic proportion and traditional approaches can seem to have little impact in a fragmented world where online-influencers, Instagram celebrities and closed messaging groups carry more weight.
Families look to schools for guidance on these issues. Parenting styles and boundaries vary considerably. PEGI age ratings provide parents with useful guidance but a discussion with any KS1 or KS2 class will show the knowledge younger pupils have of titles such as Grand Theft Auto and Fortnite, often as a result of exposure via older siblings or with the consent of a parent.
At The Royal Hospital School, we adopt an approach that uses social media alongside traditional methods to communicate on digital issues. Social media channels allow us to share good practice and respond to press reports about online gaming. We disseminate some of the resources available from National Online Safety such as the weekly #wakeupwednesdays graphics.
HMC engaged Digital Awareness UK to make a short film looking at the issue of tech control. The film's message is that technology and gaming can be hugely beneficial if used effectively.
At The Royal Hospital School we help our young people to shape policy through our eCouncil and Digital Leaders programme. The recent Education for a Connected World framework published by the UK Council for Child Internet Safety (UKCIS) provides a structured curriculum which provides a solid foundation for equipping young people with the skills needed to thrive in their digital lives.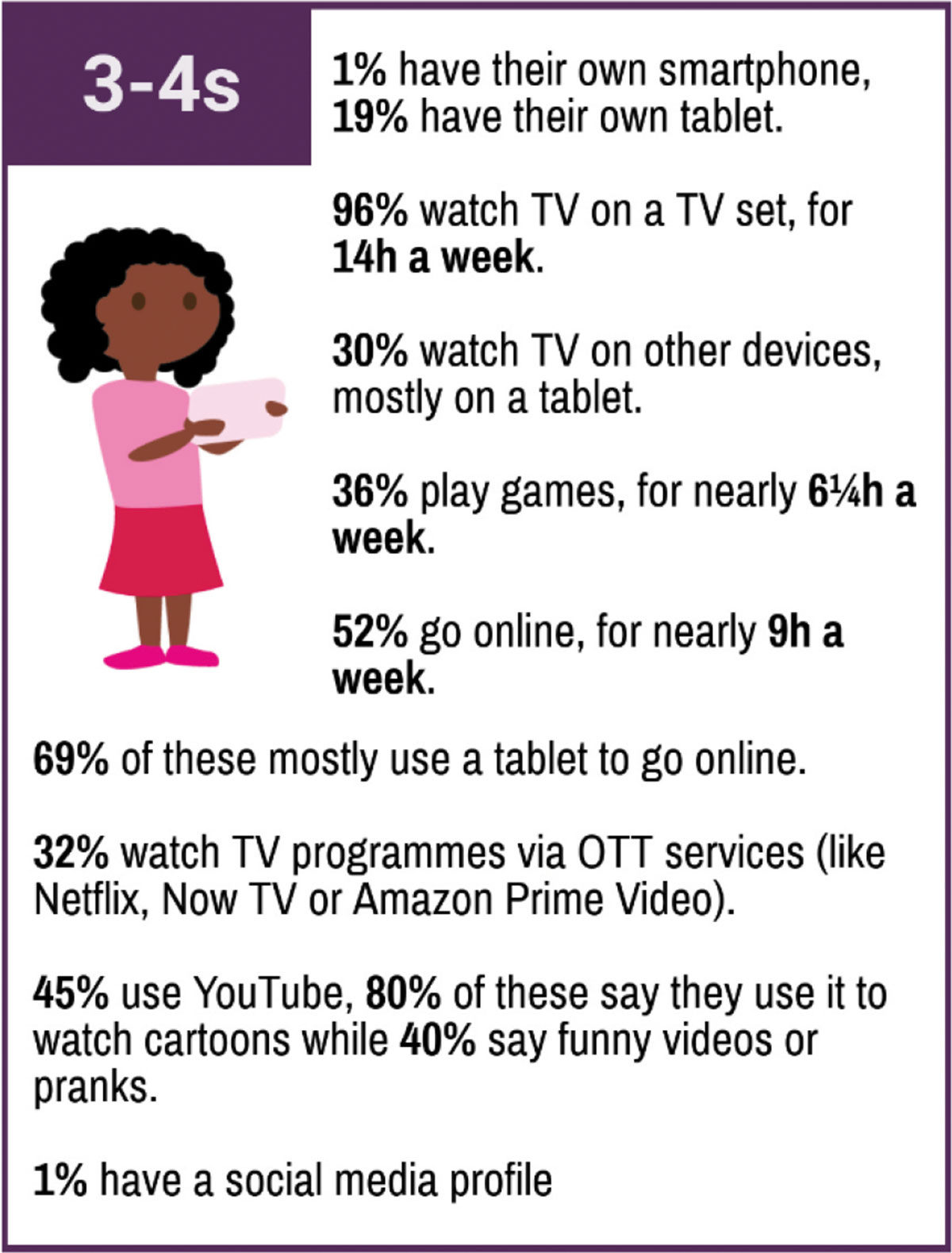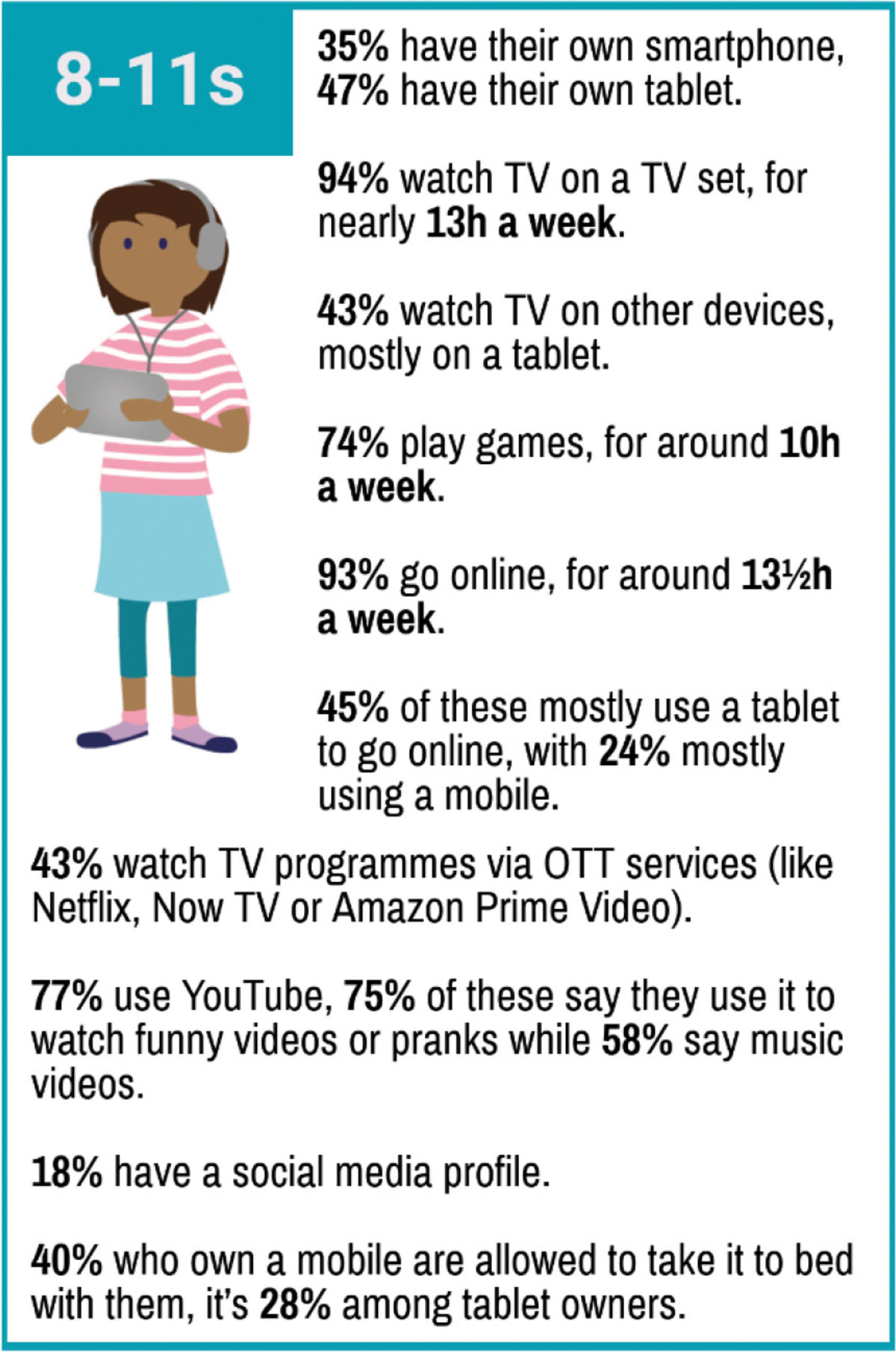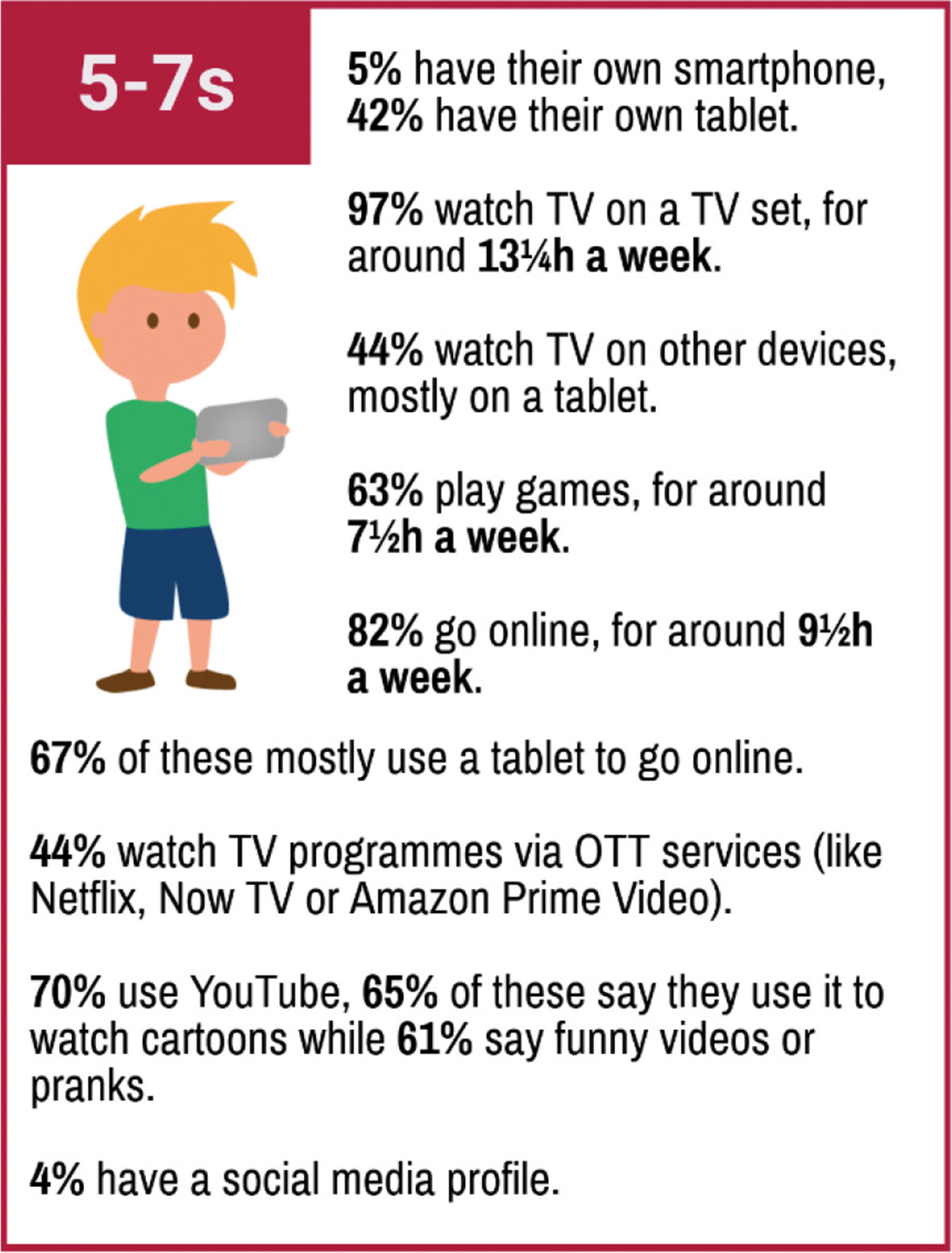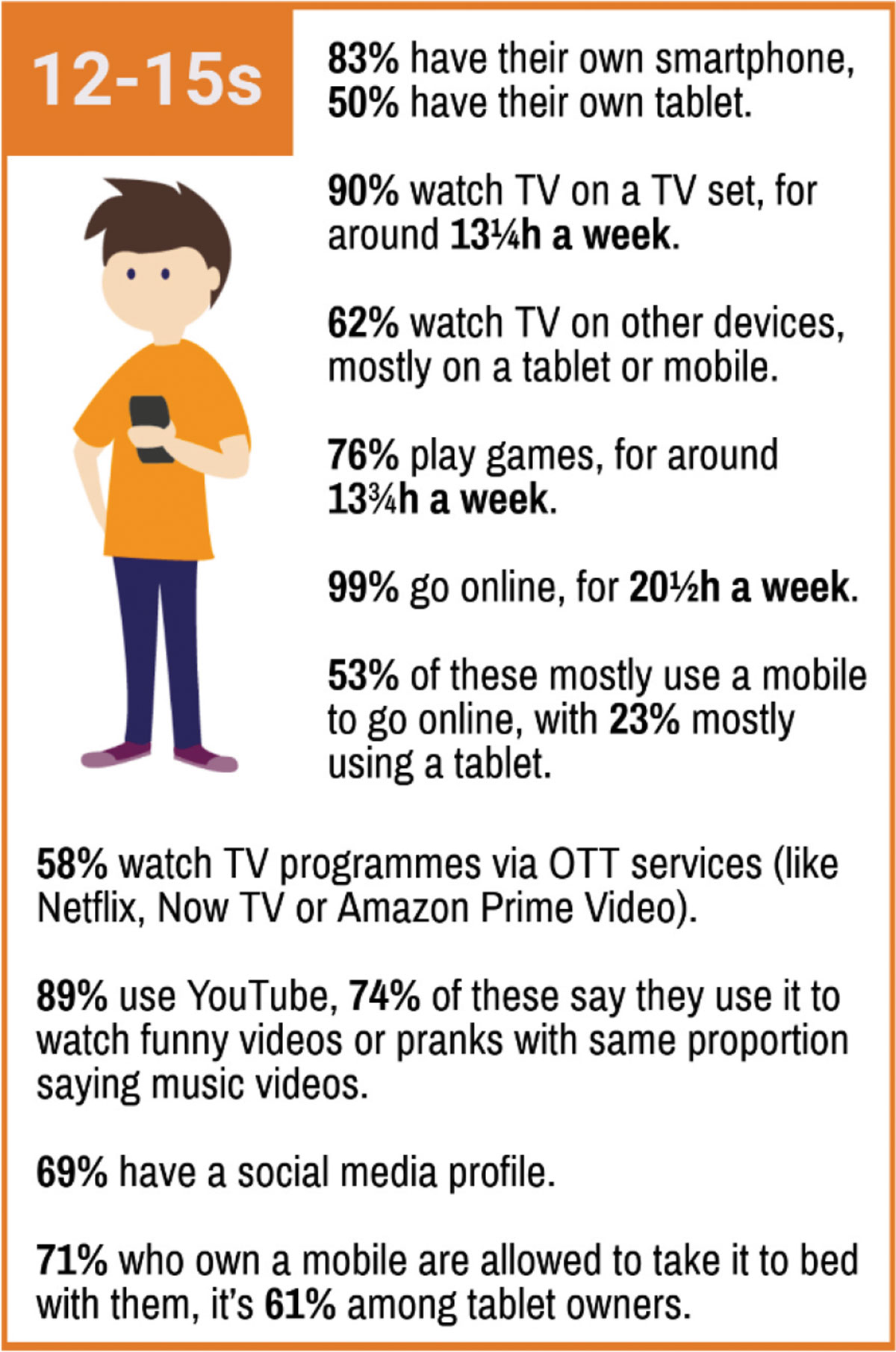 Source: Ofcom Children and parents: Media use and attitudes report 2018 – Page 3.
School controls and approaches
When considering the concerns outlined above, it is tempting to lock school systems down, but to do so negates the positives that gaming can offer. We have found that banning games and tightening our Mobile Device Management system led to pupils watching other gamers play on YouTube, raising the profile of online influencers and limiting our children to the passive consumption of external media.
Nonetheless, we acknowledge that opening our system to all games would present a huge distraction to our learners. There is a balance to be struck. We use tools such as Apple Classroom to provide visibility of pupils' screens and engage with external consultants who help us to educate them across a range of issues such as digital distraction, FOMO, sexting and game addiction.
The genie is not going back in the bottle. Device proliferation and the Internet of things (IoT) mean that pupils are living increasingly connected and interconnected lives. The challenge is to recognise the opportunities these changes bring in terms of social and educational development, whilst minimising the exposure to risks. We must balance physical and network safeguards with proactive and positive engagement in the online lives of the young people in our care. Games have the potential to form a real and valuable part in their educational development.